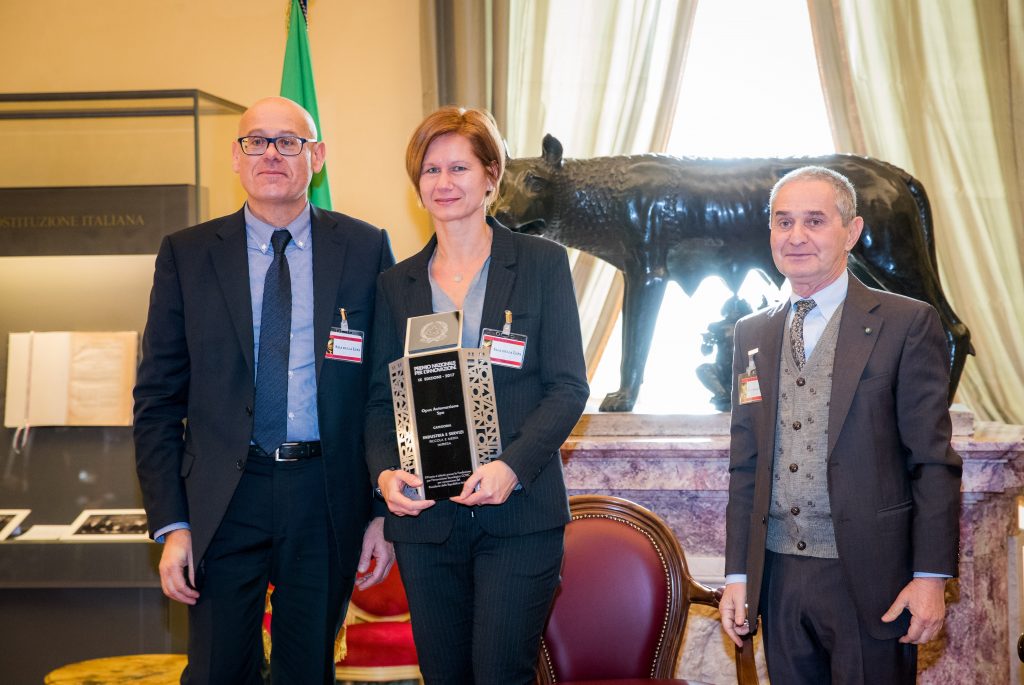 Opus received the award for 'Innovative Company' from Laura Boldrini, President of the Chamber.
Monday 18th December, at the Chamber of Deputies of Montecitorio, opus automazione received the National Award for Innovation "Premio dei Premi 2017" in the presence of the President of the Chamber of Deputies, the Honorable Laura Boldrini.
This was a very important milestone for this company from Grosseto, given that of the 34 companies that received awards across Italy, only 9won the Premio dei Premi Award. Opus automazione was one of these chosen few.
The winning organisation came from varied sectors: from the industrial to the services sector; from the banking sector to public administration; and from design to academic start-ups. Each of these companies was chosen because of product excellence and process innovation.
Established as part of the 'Innovation Italy' event, this award initiative is now in its ninth year. National Innovation Day 2017, was originally established in 2008 by the Presidency of the Council of Ministers on the mandate of the President of the Republic, and is supported by the AGI Agency and carried out by CENSIS.
Ineska Brbic, automation project manager is one of the founding partners of the company. At the end of the ceremony Ineska Brbic, and the other prize winners, attended a meeting with communication team to raise awareness of significant innovations made by companies, public bodies and professionals, who had been honoured by the Premio dei Premi awards.
"This award is a great source of pride and satisfaction for the entire company" – said Stefano Batistini, Legal Representative of Opus Automazione. It recognizes our continuous efforts in research and innovation and is shared with all the people who work at Opus
Below is the press release of the article: